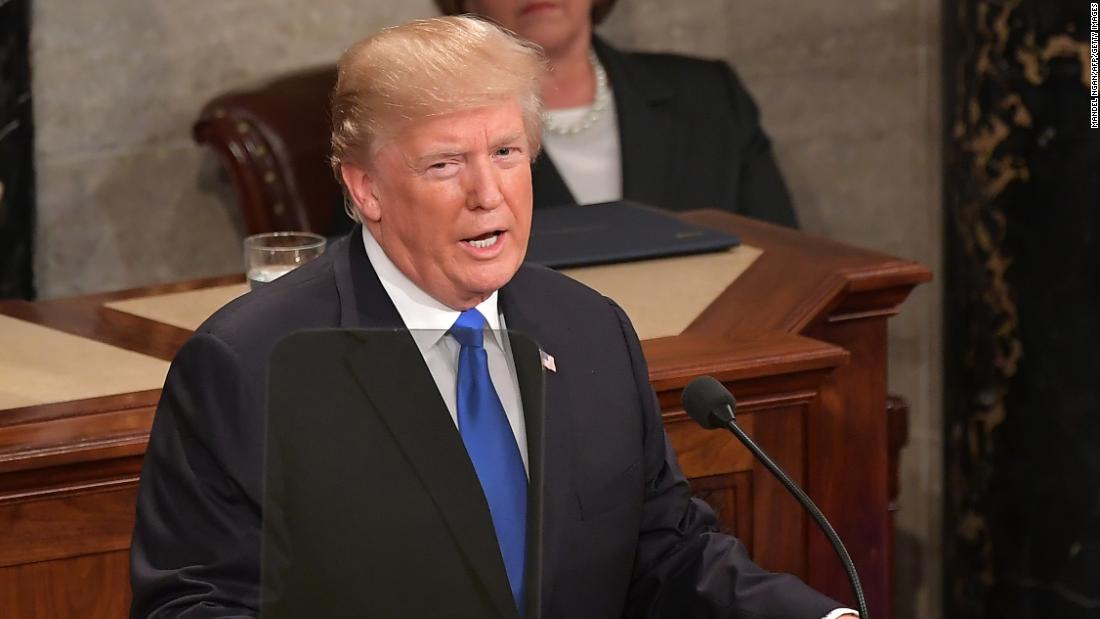 (CNN)President Donald Trump on Tuesday delivered his first State of the Union address, and CNN's Reality Check Team was there to vet his claims.
The team of reporters, researchers and editors across CNN listened throughout the speech and analyzed key statements, rating them either true, true but misleading, or false.
By Jeanne Sahadi, Sam Petulla and Tami Luhby, CNN
By Tami Luhby, CNNMoney
"African-American unemployment stands at the lowest rate ever recorded," the President said Tuesday.
It's true that the unemployment rate for African-Americans has never been lower. It's one of the benefits of the strong job market.
In the past, Trump has falsely taken credit for the stat. The unemployment rate for blacks has been dropping for years, along with the rates for other racial groups.
Plus, black joblessness remains far higher than the rate for whites, which stands at 3.7%.
Trump tweeted the next morning: Somebody please inform Jay-Z that because of my policies, Black Unemployment has just been reported to be at the LOWEST RATE EVER RECORDED!
By Patrick Gillespie and Tami Luhby
There's no question that the job market is strong right now. It has been for years.
Trump opted on Tuesday to cite the growth in jobs from his election, rather than when he took office in January.
"Since the election, we have created 2.4 million new jobs, including 200,000 new jobs in manufacturing alone," he said.
It's true that the economy has added 2.4 million jobs since November 2016. And it created 196,000 manufacturing positions last year ... or 214,000 since November 2016.
Unemployment is at 4.1%, matching the lowest level in 17 years. Companies say they are having a hard time finding workers to fill jobs.
Still, job growth actually slowed last year. That's because he inherited a strong job market from former Obama. The United States added almost 3 million jobs in 2014, 2.7 million in 2015 and 2.2 million in 2016.
That trend is what's expected in such a long economic expansion. As unemployment moves to historic lows, job gains eventually slow down.
By Tami Luhby and Patrick Gillespie, CNNMoney
Trump took credit for workers getting higher wages under his tenure.
"After years of wage stagnation, we are finally seeing rising wages," he said Tuesday.
Last year, wages grew an average of 2.6% -- the same rate as 2016. And it's still considered weak improvement: The Federal Reserve hopes to see wages increase about 3.5% annually.
Wage growth has accelerated somewhat over the past two years. It averaged a paltry 2.2% since October 2010, even though the economy has added jobs every month.
The relative lack of wage growth is a big reason many Americans still feel left out of the recovery from the Great Recession.
By Julia Horowitz, Chris Isidore and Tami Luhby, CNNMoney
Trump highlighted the strength of the auto industry, saying he "halted government mandates that crippled America's auto workers, so we can get the Motor City revving its engines once again."
Still, the industry is healthy. Car prices are going up, and people are buying more expensive models.
Those trends didn't begin when Trump took office. The Obama administration bailed out General Motors and Chrysler in 2009. What followed was the industry's longest period of sustained growth in decades.
By Laura Koran, CNN
"Last year, I pledged that we would work with our allies to extinguish ISIS from the face of the earth," Trump said Tuesday. "One year later, I'm proud to report that the coalition to defeat ISIS has liberated very close to 100% of the territory just recently held by these killers in Iraq and in Syria."
There is no doubt the military campaign to defeat ISIS has claimed major victories in the past year. The terror group was expelled from their self-proclaimed capital in Raqqa, Syria, as well as its onetime stronghold in Mosul, Iraq.
Still, experts warn that ISIS remains a threat within the region and, potentially, to the US homeland. As the terror group loses physical territory, it is increasingly turning its attention to online radicalization efforts, urging supporters to conduct terror attacks in their home countries rather than travel to the so-called "caliphate."
By David Shortell, CNN
It may be one of his longest lasting legacies, and Trump was quick to tout it Tuesday: a conservative reshaping of the federal judiciary.
"Working with the Senate," Trump said, "we are appointing judges who will interpret the Constitution as written, including a great new Supreme Court justice, and more circuit court judges than any new administration in the history of our country."
It's a big claim. Since the start of the Trump administration, 13 judges have been confirmed by the Senate to the powerful appellate courts -- the latest, David Stras to the Eighth Circuit Court of Appeals, just on Tuesday.
The rapid pace of confirmations comes as the White House and Senate Republican leadership move in lockstep, at times eschewing past norms -- like holding hearings for multiple circuit court positions at once -- and by moving forward with nominees who don't have the approval of both of his or her own home state senators. But currently in the minority in the Senate, Democrats have been only able to protest as Trump has made history.
By Tal Kopan, CNN
Trump claimed that the diversity visa lottery and family-based migration made recent terrorist attacks in New York City possible, saying "these programs present risks we can no longer afford" and that the diversity lottery is "a program that randomly hands out green cards without any regard for skill, merit, or the safety of our people."
But the statements are misleading and false, respectively.
The Trump administration has not explained how it links radicalization in the US to needing to keep immigrants out of the US in the first place.
Roughly 50,000 immigrants per year arrive on diversity visas and hundreds of thousands annually come on family-related visas. The Trump administration has linked a fraction of a percentage of those to terrorism.
But while diversity lottery winners are chosen at random, it is not true that there are no requirements or screening before they actually receive permission to come to the US.
By law, they are required to have at least a high school education or equivalent and work experience that requires specialized training, and they also must be screened for any form of ineligibility, including security risks, and interviewed before they receive a visa.
By Tal Kopan, CNN
"Under the current broken system," Trump said Tuesday, "a single immigrant can bring in virtually unlimited numbers of distant relatives."
The President claimed that under what he calls "chain migration," or family-based migration, "a single immigrant can bring in virtually unlimited numbers of distant relatives." But that isn't quite the case when the limitations of the programs are factored in.
According to the analysis, if applicants for sibling visas were filed today, it would take roughly 36 years on average for the application to be processed and more than a lifetime for Mexico, for example, which has a high application rate.
By Tal Kopan, CNN
"What the Border Patrol and ICE have done, we have sent thousands, and thousands, and thousands of MS-13, horrible people out of this country or into our prisons."
But Trump's claim is not borne out by the statistics released by his administration.
According to the administration, Immigration and Customs Enforcement made 796 MS-13-related arrests and Customs and Border Protection made 228 MS-13 arrests in the fiscal year that ended at the end of September 2017.
In November, ICE announced a major gang crackdown, which 214 MS-13 arrests nationwide. As part of that, Attorney General Jeff Sessions noted the US "worked with our partners in Central America to arrest and charge some 4,000 MS-13 members," which the White House pointed to as back-up for Trump's claim. But not all of those individuals were arrested in the US or placed in federal prisons.
The efforts to combat the brutal MS-13 gang are not new. Since 2005, there have been roughly 60,000 arrests as part of a continual nationwide gang crackdown operation led by ICE's Homeland Security Investigations with other US law enforcement. Of those arrests, 7,000 have been MS-13.
In its year-end statistics, ICE did not break down its deportations by type of criminality.
By Matt Egan, CNNMoney
"We are now, very proudly, an exporter of energy to the world," Trump said Tuesday night.
It's true that the United States exports energy. It has for decades. It just imports a lot more.
The gap has been shrinking in recent years. But the US Energy Information Administration estimates the United States will keep importing more energy than it exports until 2026 -- maybe sooner and maybe later, depending on prices, world demand and regulation.
American exports of one form of energy, crude oil, are booming. But that's not because of Trump. US oil production has climbed substantially for a decade. And Congress repealed a law in 2015 and allowed US producers to send crude to countries other than Canada.
The United States recently became a net exporter of natural gas. But that was because a technological revolution made it easier to extract an abundance of gas from shale formations.
Read more: http://www.cnn.com/2018/01/30/politics/state-of-the-union-address-fact-check/index.html
Related