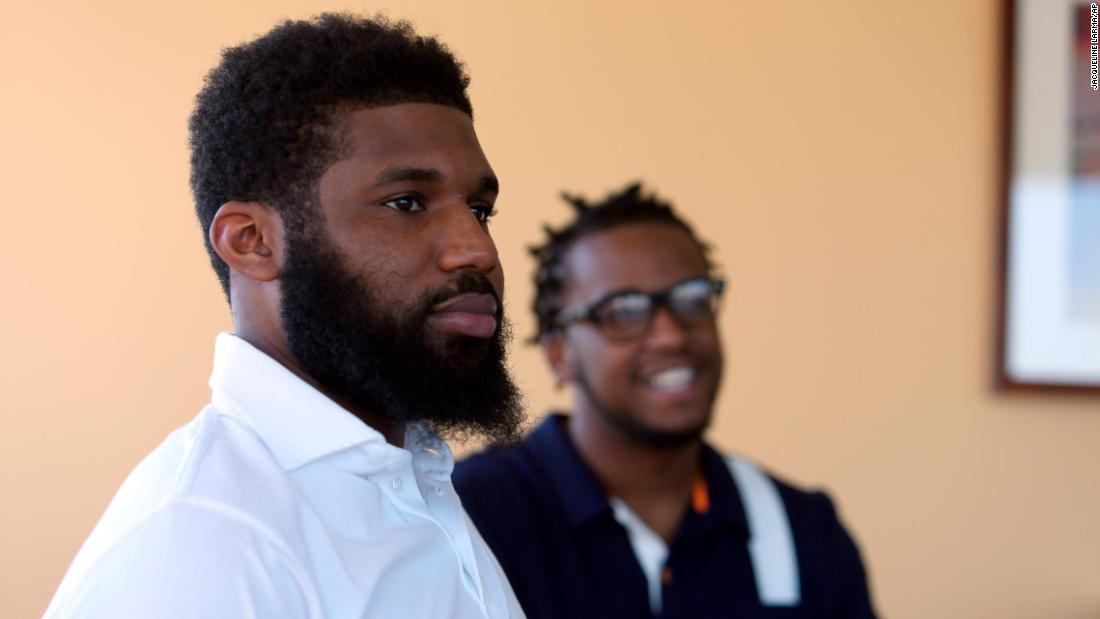 (CNN)Two black men whose arrest last month at a Starbucks spurred allegations of racial bias say they're happy with the settlements they've reached with the city of Philadelphia and the company -- and that they hope the incident is remembered for positive outcomes such as an anticipated program to encourage young entrepreneurs.
"Looking at how we took a negative and turned it into a positive, that's really all we want," Robinson said Thursday morning during the duo's interview with ABC's "Good Morning America."
The details of the financial settlementthat Robinson and Nelson reached this week with Starbucks are confidential, the company said.
But the parties agreed to work to "develop specific actions and opportunities," and the two men will give input to former US Attorney Eric Holder, who is working with Starbucks on its diversity efforts, the company said.
The mammoth coffee chain previously said it would
close its 8,000 company-owned
stores in the United States for one day, May 29, to educate employees about racial bias.
Starbucks, as part of the agreement, is also giving the men the opportunity to complete their undergraduate degreesfor freethrough a partnership with Arizona State University.
Nelson told "Good Morning America" that he is encouraged by "the fact that we have a seat at the table (with Starbucks), to work on reforms that (will) be included in racial bias training."
He said he hopes other companies take Starbucks' lead.
The arrests
The men had initially asked to use the bathroom at a downtown Philadelphia Starbucks on April 12 as they waited for a business meeting but were told the restroom was for paying customers only. They then occupied a table without making a purchase.
Within minutes of their arrival, a manager called police after the men declined to leave the premises because, they said, they were waiting for their acquaintance.
Nelson and Robinson were arrested on suspicion of trespassing, but no charges were filed. Video of the incident went viral and ignited
protests
and calls for boycotts.
Starbucks CEO Kevin Johnson apologized for the arrests, calling them "
reprehensible.
"
Philadelphia Police Commissioner Richard Ross,who is black,
apologized to the men
, saying he made the decision worse by initially defending his officers' actions.
In a statement Wednesday, Johnson thanked the men for "their willingness to reconcile."
"I welcome the opportunity to begin a relationship with them to share learnings and experiences. And Starbucks will continue to take actions that stem from this incident to repair and reaffirm our values and vision for the kind of company we want to be," Johnson said.
Entrepreneurial program
Robinson and Nelson will work with the city and a nonprofit organization to develop criteria, review applications and award the $200,000 grant, city spokesman Mike Dunn said. The grant will establish "a pilot curriculum for public high school students to develop the skills necessary to pursue their dream of being entrepreneurs," according to Dunn.
Robinson told "GMA" the grant's aim will be to teach "not just about entrepreneurship, but proper etiquette (and) proper literacy, and knowing about taxes and how to use money as a tool."
Philadelphia Mayor Jim Kenney said he was pleased to resolve the potential claims against the city.
"This was an incident that evoked a lot of pain in our City, pain that would've resurfaced over and over again in protracted litigation, which presents significant legal risks and high financial and emotional costs for everyone involved," Kenney said in a statement.
Read more: https://www.cnn.com/2018/05/03/us/starbucks-arrest-agreements/index.html
Related