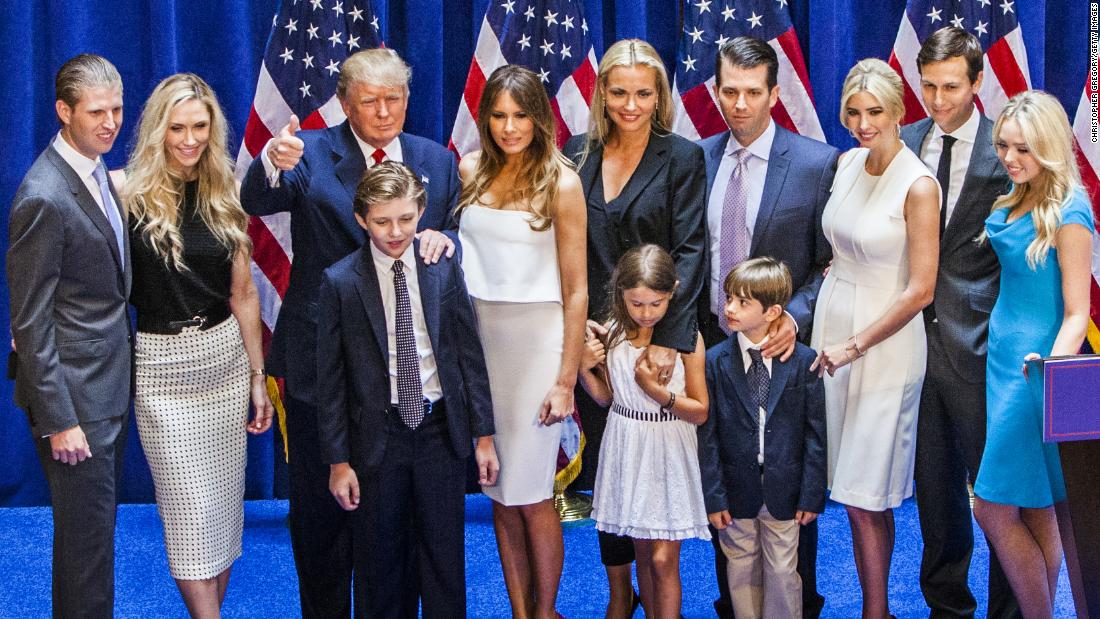 Washington (CNN)It's been a jam-packed year of news since President Donald Trump moved into the White House, but it's also been a transformative -- if tumultuous -- year for each member of the first family.
Trump and his extended nuclear family's first year in Washington saw new homes in cities, new roles, new books and even a new baby. And each member's unique use of social media provided a window of insight into their new lives.
Here's what the President's brood has been up to since Inauguration Day:
I was so grateful at the opportunity to spend time with the children and their families yesterday, and want to thank the medical staff at Children's National for their lifesaving work!
A post shared by First Lady Melania Trump (@flotus) on
She's embraced events with children, which she has made a hallmark of her time as first lady, including multiple visits to Children's National Medical Center in Washington and hospitals abroad.
The extremely private Trump has largely refrained from participating in media appearances, speaking publicly only on rare occasions. However, she has used fashion as a key messaging tool. Trump turned heads in a baby blue Jackie Kennedy-inspired outfit at the inauguration.
But bombshell revelations that Trump Jr. arranged with publicist Rob Goldstone to meet with Natalia Veselnitskaya, a woman described as a "Russian government attorney," overshadowed Trump's year, plunging him into the center of investigations into the Trump campaign's role in Russian meddling in the 2016 election.
The hard-charging, no-apologies first son of Donald and Ivana Trump pushed back just as hard against the scrutiny, continuing his bombastic social media habits through the year as the story developed.
First daughter Ivanka Trump moved to Washington just before the inauguration with husband Jared Kushner and their three small children -- now 1, 4, and 6 -- taking a formal leave of absence from the Trump Organization and her eponymous apparel and accessories brand. She moved into a West Wing office in March, beginning a formal role in her father's administration that's been heavily scrutinized.
Ivanka Trump and Kushner were at the center of the infighting and chaos in the Trump White House's first months, leading a global-minded faction at odds with a nationalist faction led by Steve Bannon.
Many thought she would serve as a moderating influence on her father's positions on everything from climate change to LGBTQ issues to women's reproductive rights -- but so far, that's failed to materialize. Her portfolio, which once seemed to include dabbling in nearly every issue that crossed her father's desk, is now more neatly tailored to women's economic empowerment, workforce development, STEM education and combating human trafficking, with infrastructure in store for 2018.
Reflecting on a wonderful day of dialogue and collaboration at the #W20Summit this week. It was a mind-expanding and meaningful visit. Thank you, Chancellor Merkel, for your leadership! #WomensEconomicEmpowerment #TBT
A post shared by Ivanka Trump (@ivankatrump) on
The West Wing portfolio of the President's son-in-law, Jared Kushner, was so broad in the early months of the Trump administration that it was hard to track his growing list of responsibilities. But much like Trump Jr., he has also been in the crosshairs of investigators looking into the Trump campaign role in Russia's election meddling.
Trump's son-in-law also leads the White House's Office of American Innovation, which aims to make government more efficient and eliminate bureaucracy, though has remained amorphous and ill-defined.
Eric Trump assumed the reins of the Trump Organization alongside his brother in 2017, traveling to Trump properties across the world.
But it was also a big year at home -- Eric and his wife, Lara, welcomed baby boy Luke in September, adding a ninth grandchild to the President's brood.
.@LaraLeaTrump and I are excited to announce the birth of our son, Eric "Luke" Trump at 8:50 this morning.
A post shared by Eric F. Trump (@erictrump) on
Along with his wife and older brother, Eric Trump has been involved with his father's 2020 reelection campaign, holding meetings this year at the Republican National Committee to talk strategy. While ethics rules prevent the Trump children from discussing the family real estate business with their father, they have played a role in laying the groundwork for the reelection campaign.
Lara Trump has taken on an even bigger role in the reelection campaign, serving as a campaign senior adviser and becoming a key spokeswoman for 2020 efforts.
Tune in to @judge_jeanine on @foxnews tonight at 9pm! We'll see you there! 🇺🇸
A post shared by Lara Trump (@laraleatrump) on
Trump worked for Inside Edition before her father-in-law became President, and her television background suggests more air time as Trump's reelection efforts accelerate in the coming year.
The year 2017 held its own transitions for the President's youngest daughter, Tiffany Trump.
Trump, who grew up in California with her mother, Marla Maples, followed her father from New York to Washington, where she is a first-year law student at Georgetown University.
A post shared by Tiffany Ariana Trump (@tiffanytrump) on
The University of Pennsylvania graduate, now 24, has been on hand at the White House for family events, including the Easter Egg Roll and a private dinner celebrating her father's birthday in June. She spent the week after Christmas at Mar-a-Lago, posing for a selfie video with sister Ivanka. She also traveled to Europe over the summer, visiting Budapest and Berlin with then-boyfriend Ross Mechanic, and Italy by yacht with her mother.
A post shared by Tiffany Ariana Trump (@tiffanytrump) on
Asked if her dad eats McDonald's in bed every night, Trump laughed, climbing into an SUV.
"He wishes," she said.
The first lady has made an effort to give her son as much of a normal life as possible, and Barron Trump has made rare public appearances this year, joining his parents at the Easter Egg Roll, donning his eclipse glasses in August on the Truman balcony, and flying on Marine One and Air Force One on weekend trips to Bedminster and Mar-a-Lago.
But it's clear that Barron, an avid soccer player, has taken advantage of the White House grounds -- a goal post is set up in the Jacqueline Kennedy Garden alongside the East Colonnade.
She told CBS News she turned down an opportunity to be ambassador to her native Czech Republic because "I have a perfect life," a jet-setting schedule she's likely to maintain in 2018.
Marla Maples, the President's second wife, kept a relatively low profile in 2017, focusing on her family and friendships.
"She has embraced the importance of these relationships and put them first during this year of great change," her spokeswoman told CNN via email, writing, "It is also so very important in her daily life to help share and create unity wherever she witnesses fear, anger, or separation."
Maples attended the inauguration and came to Washington to help daughter Tiffany move into law school in the fall.
Read more: http://www.cnn.com/2018/01/15/politics/first-family-first-year-in-review/index.html
Related