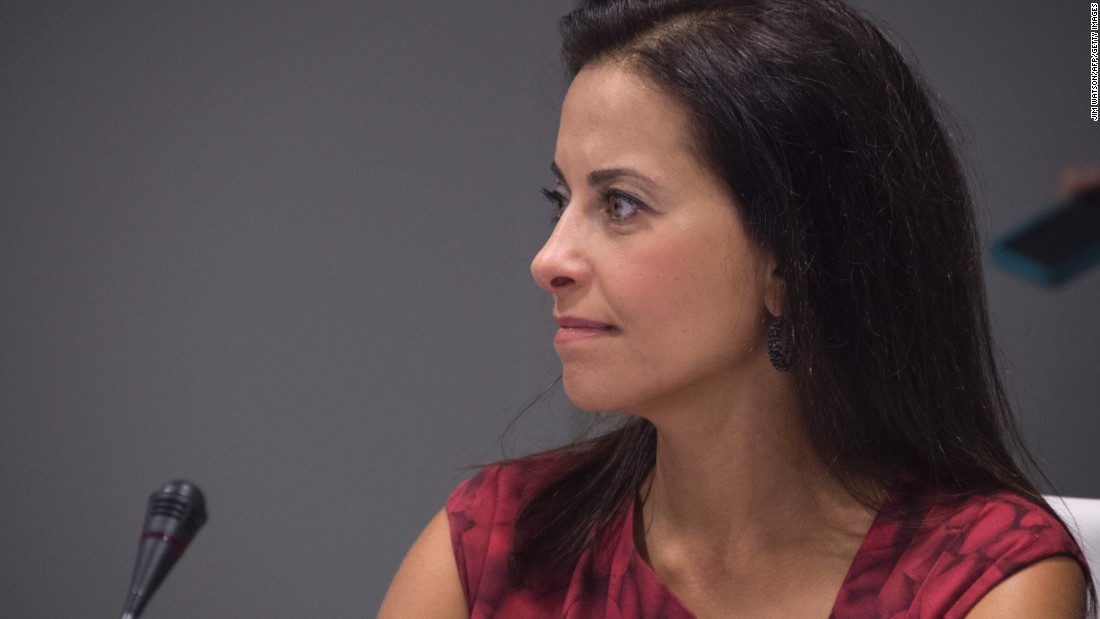 Washington (CNN)Goldman Sachs executive Dina Habib Powell is joining the Trump administration in a senior role focused on entrepreneurship, economic growth and the empowerment of women.
President-elect Donald Trump's transition Team announced the position for Powell, 43, who previously served in the Bush White House and State Department, confirmed the new position to CNN Wednesday,
which was first reported by Politico
.
"Dina Powell is a tremendous talent and has a stellar record of public service as well as a great career in the private sector," the President-elect said in a statement. "She has been recognized for her strategic oversight of key programs and initiatives and is a leader in both economic growth and the crucial empowerment of women in various aspects of business development and entrepreneurial endeavors."
Powell has been advising Ivanka Trump, who first reached out to Powell regarding women's programming.
The move shows at least one way Ivanka Trump's agenda will manifest itself in her father's administration. She has long said she will work to champion issues such as equal pay and paid family leave if her father won the White House, saying at the Republican National Convention in July: "Policies that allow women with children to thrive should not be novelties, they should be the norm."
First steps
Dina Powell was born in Cairo, Egypt, emigrating with her parents to Texas at the age of four. Her father drove a bus and operated a convenience store in Dallas.
A graduate of Dallas' prestigious Ursuline Academy, Powell attended the University of Texas at Austin, where she first got the political bug working in the state Senate. Her first internship was with then-Texas Sen. Kay Bailey Hutchison, a Republican, who's kept up with her career through the years.
"She is extraordinary and she has gone so far since that first little internship because she is so graceful," Hutchison told CNN, citing Powell's positive attitude, diplomatic manner and discretion.
Like Ivanka Trump, Powell assumed a high-profile, powerful role at a young age.
At 29, Powell became the youngest-ever assistant to the president for presidential personnel, heading up all of the Bush White House's decisions on appointments. There, she worked alongside Margaret Spellings, then the White House domestic policy adviser, and later, education secretary.
"She and I sat next to each other at the White House morning meeting the chief of staff held at 7 o'clock every morning, and at that early hour, you were expected to come around the table and be prepared to talk about the day," said Spellings, now the President of the University of North Carolina System.
The two coordinated on appointments and became close friends.
"To say that she's the real deal is an understatement," said Spellings, whom Powell affectionately calls "Marget." "She's one of those people that you want to work with. She's lots of fun, she's serious. She's a big thinker and she's enthusiastic and she breeds enthusiasm with her partners ... She's not just a big thinker, she's a big thinker who can actually execute. And that's a rare combination."
Ivanka Trump
The Trump transition has not yet announced official plans for Ivanka Trump to take a formal role in the administration. However, she is taking a formal leave of absence from the Trump Organization and her apparel and accessories brand, she wrote in a Facebook post Wednesday.
"I plan to take time to settle our three young children into their new home and schools," she said in the post.
But Trump made it clear that she's interested using her platform as first daughter to invest in and empower women.
"I'm grateful for the overwhelming amount of outreach I've received from people all across America who have shared their stories and offered to extend their ideas and expertise in the areas I am deeply passionate about, including the education and empowerment of women and girls; leveling the playing field for female entrepreneurs and job creators and unleashing the potential of women in the workplace. I am eager to hear more from them as I determine the most impactful and appropriate ways for me to serve our country," she said.
Powell could be instrumental in putting Trump's passions into practice.
"Dina knows the players in the women's empowerment space on both sides of the aisle. She has herself very effectively built this really powerful platform for women entrepreneurs globally. She has an understanding of how government can partner with private sector to produce results," Hughes said.
Read more: http://www.cnn.com/2017/01/11/politics/who-is-dina-powell/index.html
Related