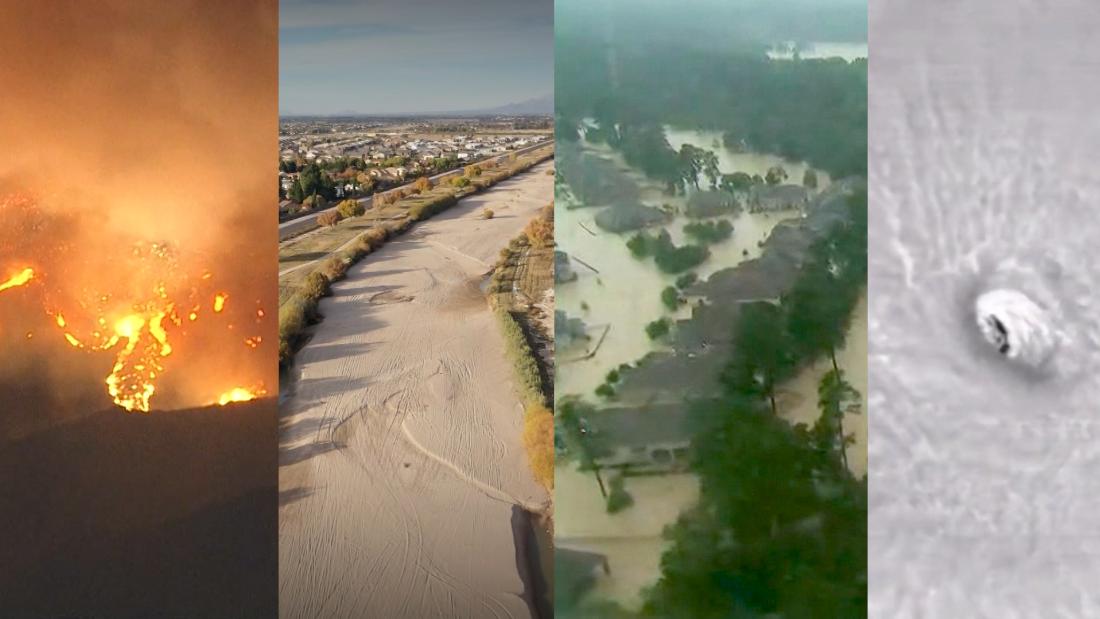 (CNN)As director of the Yale Program on Climate Change Communication, Anthony Leiserowitz gets brought in to a lot of conversations about the topic. He shapes stories about it with other scientist for publication. He talks to CEOs and politicians. He gives lectures. He's ready to answer just about any heavy questions about the complicated subject. But often, the first question he gets is a simple one.
The term "global warming" seemed to be more in vogue in the past decade, although President Trump uses it these days to make fun of the concept on Twitter.
"The term 'global warming' also doesn't get at how it impacts weather locally and regionally."
"Keep in mind, scientists are trained to talk to each other, but if there are issues like this or like about vaccine safety, we need to think more about how we choose our words and be smart about our language," Oreskes said.
Scientists did not workshop the term with focus groups or hire an ad agency to determine what words to use, rhetorician Walsh said. But there certainly were people who hired focus groups, and they had a very clear, non-scientific aim in mind: They wanted to downplay it.
Before he was president, Trump tweeted more than once that "hoaxsters changed name to CLIMATE CHANGE!" But it was Republicans, not Democrats, who initially pushed for the name change.
The memo suggests that candidates express their "sincerity and concern" about the environment, but he also wanted them to downplay concerns.
Using focus groups, Luntz discovered that " 'climate change' sounds less frightening than 'global warming,' " the memo explained.
"While global warming has catastrophic connotations attached to it, climate change suggests a more controllable and less emotional challenge."
Luntz did not respond to a request for an interview.
"Words are not buttons you can press to make them mean only one thing. That's not the way it works in rhetoric," Walsh said. "You have to consider the time and place and the words used and who is using them."
"The key thing about terms like this is, they are plastic. Or, well, maybe since we are talking about the environment, we should say words are renewable organic latex or something," Leiserowitz joked. "Essentially, meaning changes."
Hulme and Oreskes said that some colleagues, to emphasize exactly how dire the situation is, will add a word to the phrase "climate change," like "anthropogenic" or "human."
"Sure, the climate will always change, but to communicate why it is bad, I sometimes will put a qualifier word with it and will say 'man-made climate change' or 'disruptive climate change,' " Oreskes said.
Hulme said he has heard scholars try to come up with new terms, calling it "climate chaos," "catastrophic climate change" or "weather weirding."
"You have various forms of linguistic entrepreneurship to draw attention to this in slightly more melodramatic ways, feeling that 'climate change' is too neutral," Hulme said.
"Scientists are supposed to be neutral, and other people will do the politics," Johnson said. "I'm just not sure scientists are capable of getting in the room together to figure out how we frame one message."
Hulme said that if people wanted to be really specific, "ocean heating" may be a more accurate term, because 98% of the extra energy generated by human activity goes into the sea, causing serious problems. "But that's still quite esoteric, and I don't see that catching on anytime soon," Hulme said.
No matter what terms people use to describe it, scientists and many policy-makers want you to call it something, because it's important to keep talking about it.
"Words can pop loose from their meanings and moorings," Walsh said. What's most important is that the world continue to talk about what may be one of the biggest threats to this planet.
Read more: https://www.cnn.com/2019/03/02/world/global-warming-climate-change-language-scn/index.html
Related