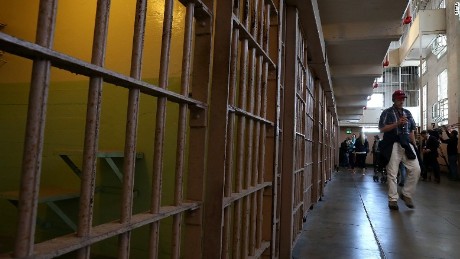 (CNN)Every year, about 600,000 men and women (the equivalent of the city of Baltimore) return to communities across the country without anyone much noticing. Astonishingly, 1 out of 30 American adults have made this journey home over the last few decades.
Because the average length of an incarcerated individual's prison stay is less than three years and 95% of prison terms are for less than life, the vast majority of the prison population is
coming home
at some point.
Unfortunately, too little emphasis is paid to this population, and the back-end efforts they need to be successful upon their release. Both state and federal attempts to reform the criminal justice system have focused on the entering inmate class, either by reducing the penalties or dissuading offenses in the first place. Lofty aims indeed, but they ignore the elephant in the room -- what to do with offenders during and after their time in prison.
Preparation for the outside world is key for the incarcerated, but both state and federal systems have drastically
cut spending
on in-prison training over time and often provide little to no support (other than a few dollars and a bus ticket) to offenders upon release.
Unsurprisingly, exiting the prison gates becomes a daunting journey for most of the formerly incarcerated. Men and women, many who return to children they left behind, have lost their social support systems, any legitimate work they may have had, and in too many cases, are deeply in debt with legal and child support fees.
To help these returning citizens on their path back to productive and full lives, we must do more. Local, state and federal agencies spend just a tiny fraction of their criminal justice budgets on resources that empower the formerly incarcerated. Recent research into "what works" in reducing recidivism and easing the re-entry process is severely lacking.
What little does exist suggests that successful re-entry starts behind bars, when prisoners themselves choose to change their lives, learn basic skills, and begin to plan for a life on the outside. Upon release, the most effective programs help returning citizens
reconnect
with positive social connections, find work and housing immediately, and get and stay both mentally and physically healthy.
One such program, the Prison Entrepreneurship Program in Texas, helps the incarcerated build up their life and business skills on the inside and meets them at the prison gates. From there, returning citizens are connected with family, housing, health care and jobs. Many of the
program's
graduates go on to start their own businesses while only 7%
find themselves in trouble
with the law within three years. It accomplishes all this without a penny of government money.
That model, which bridges the inside and outside worlds, offers returned citizens hope for the future and an opportunity to change their own lives for the better.
Neither government nor nonprofits can solve this problem in isolation. Leaders from corporate, philanthropic and faith-based communities must also help returned citizens. In turn, this civil society approach will empower them to help themselves. Let us not forget that they are our neighbors, friends and fellow citizens and deserve the dignity and promise of the American Dream once their sentence is paid.
Read more: http://www.cnn.com/2016/04/25/opinions/prison-release-re-entry-opinion-robinson/index.html
Related