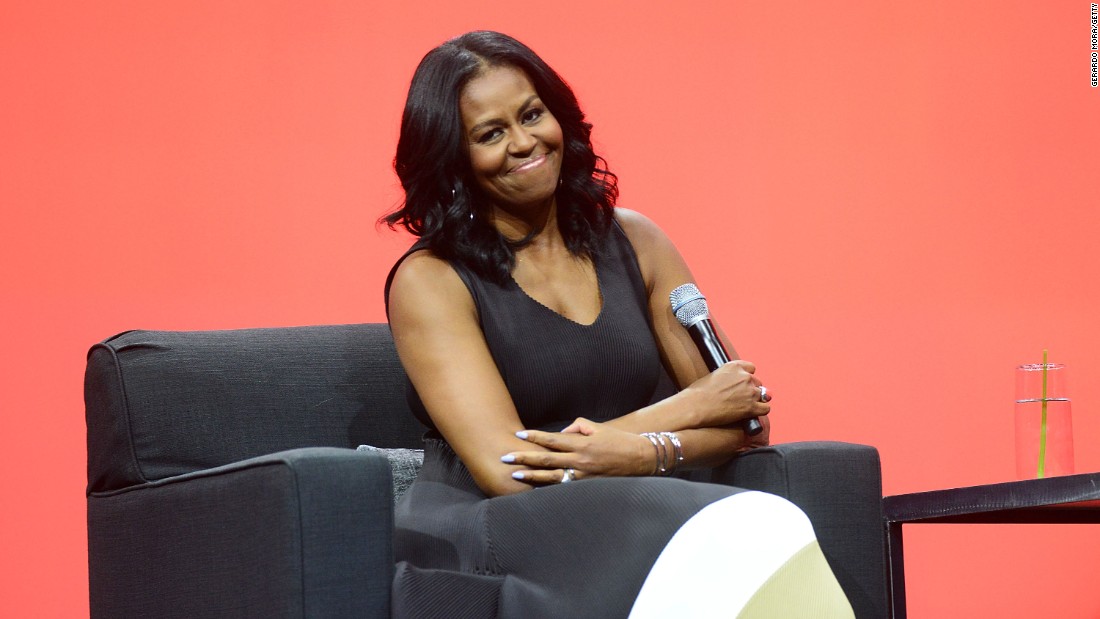 Washington (CNN)The Trump administration is discontinuing a signature girls education initiative championed by former first lady Michelle Obama, according to officials.
The "Let Girls Learn" program, which she and President Barack Obama started in 2015 to facilitate educational opportunities for adolescent girls in developing countries, will cease operation immediately, according to an internal document obtained by CNN.
While aspects of the initiative's programming will continue, employees have been told to stop using the "Let Girls Learn" name and were told that, as a program unto itself, "Let Girls Learn" was ending.
"Moving forward, we will not continue to use the 'Let Girls Learn' brand or maintain a stand-alone program," read an email sent to Peace Corps employees this week by the agency's acting director Sheila Crowley.
" 'Let Girls Learn' provided a platform to showcase Peace Corps' strength in community development, shining a bright light on the work of our Volunteers all over the world," Crowley wrote. "We are so proud of what 'Let Girls Learn' accomplished and we have all of you to thank for this success."
"There have been no changes to the program," said Kelly Love, a White House spokeswoman, referring to the "Let Girls Learn" initiative, which Obama launched in 2015.
The White House originally referred questions about the program to representatives of first lady Melania Trump, who declined to comment.
In its comment, the White House did not say whether "Let Girls Learn" would be maintained in the future as a standalone program -- and they also did not directly address the memo or why it had been sent.
The memo came the same day President Donald Trump's agriculture secretary, Sonny Perdue, was visiting an elementary school in suburban Virginia to announce changes to another initiative spotlighted by the former first lady, healthy school lunches.
Perdue was set to unveil a rule change "providing regulatory flexibility for the National School Lunch Program" during a visit to Catoctin Elementary School in Leesburg. Like "Let Girls Learn," improving the nutritional quality of school meals was a major focus of Obama's during her tenure as first lady.
It wasn't immediately clear how Perdue's announcement would alter the nutritional makeup of school lunches nationwide, though health advocacy groups warned that backtracking could prove dangerous for children.
"Rather than altering the current path forward, we hope the agency focuses more on providing technical assistance that can help schools get across the finish line, if they haven't done so already," said American Heart Association CEO Nancy Brown.
"Let Girls Learn" was an inter-governmental initiative run primarily at the Peace Corps and the United States Agency for International Development. A spokesman for the Peace Corps said Monday the agency would continue its efforts toward girls' education.
Michelle Obama's top moments as first lady
MUST WATCH
The hope then was to underscore the success of the initiative in the hopes the next administration would continue it.
The memo comes as Melania Trump begins to define her own platform as first lady. While she hasn't formally announced an official platform, women's empowerment and access to education for women and girls is emerging as a key area of importance for her growing East Wing.
"I continue to firmly believe that education is the most powerful way to promote and ensure women's rights. Together we will do this not only by striving for gender parity at all levels of education, but also by showing all children, and especially boys, that it is through empathy, respect and kindness that we achieve our collective potential,"
she said in a recent speech
at the State Department.
First daughter Ivanka Trump who serves as an adviser to the President, is focused on women's empowerment and entrepreneurship, topics she's touted on panels and in speeches.
In promoting the importance of girls education, Obama regularly highlighted her own educational path, and said it was critical to her success in the private sector and later as first lady.
"Education is a very personal thing for me," she said in October during a discussion at the Newseum with a group of girls from across the globe. "As I tell girls whenever I meet them, I wouldn't be here, sitting here not just in this chair but in the life that I have, if it weren't for my education."
Tchen said Monday that the former first lady was still assessing how to promote this issue in her new life as a private citizen.
"This is an issue she cares passionately about," Tchen said. "I think it's still early days for what she will do in her post-White House life. But this is one she's looking at figuring out where can she be value added, where can she help with this issue."
CNN's Betsy Klein contributed to this report.
Read more: http://www.cnn.com/2017/05/01/politics/trump-michelle-obama-girls-education/index.html
Related