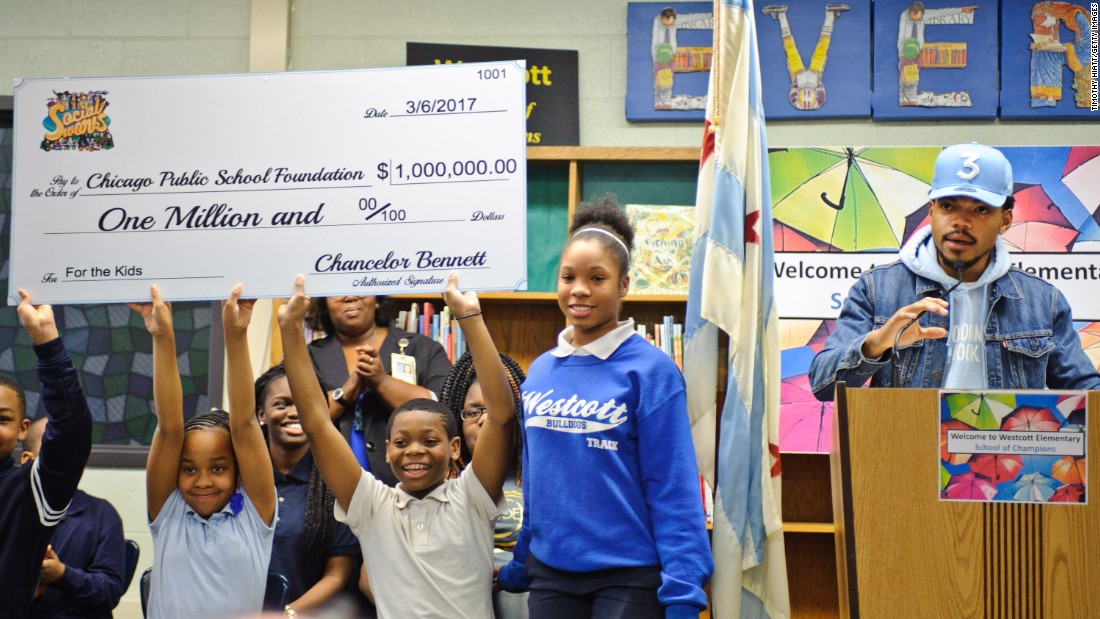 (CNN)Money, meet mouth.
Chance the Rapper met with Illinois Gov. Bruce Rauner last week to discuss money for Chicago Public Schools, and the half-hour meeting left the three-time Grammy winner feeling a little empty.
"He gave me a lot of vague answers," Chance complained to reporters.
Of course, the rapper is no stranger to philanthropy. He's done his part to
combat gun violence in his hometown
and raised money to put coats on kids' backs and to bring technology upgrades to schools, among other endeavors.
Too often, it seems, rappers make headlines for their bad behavior. So let's have a look at 10 hip-hop stars who have used their influence to make the world a little nicer.
2 Chainz
Groups supported:
Hip-Hop Summit Action Network, Voto Latino,
TRU Foundation
Groups supported:
Jackie Robinson Foundation, Tony Hawk Foundation,
Prince's Trust
He also sits on the board of the Hip-Hop Action Summit, and has been quick to "Blow a Check" on a variety of charities, including the Breast Cancer Research Foundation, Network for Teaching entrepreneurship and the i.am Scholarship fund. After a superstorm slammed the northeast United States in 2013, Combs co-hosted the Superstars for Sandy Relief party, which raised $524,742.
Read more: http://www.cnn.com/2017/03/09/entertainment/hip-hop-rappers-charity-chance-rapper/index.html
Related