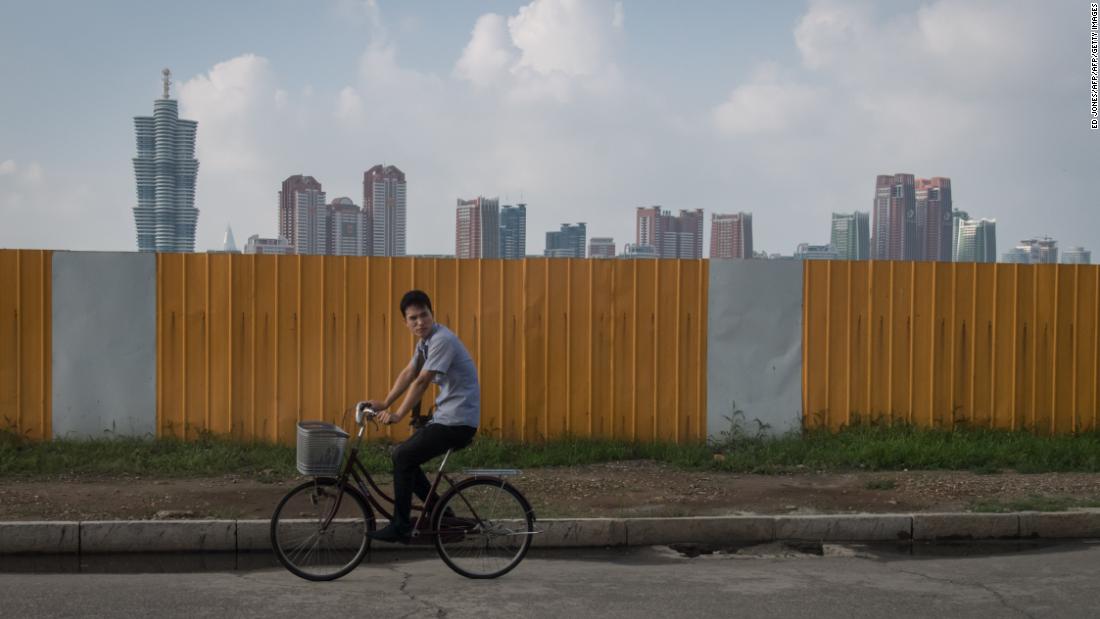 Paju, South Korea (CNN)At the Dora Observatory on the south side of the demilitarized zone (DMZ) between the two Koreas, visitors can look through large black binoculars into the North.
Following the successful intra-Korean summit and the coming meeting between North Korean leader Kim Jong Un and US President Donald Trump, people on both sides of the DMZ are looking again to renew business and trade ties that have been almost completely severed in the past decade.
The US has long floated the idea of economic assistance in return for disarmament. Should Tuesday's meeting result in a loosening of stringent US-led sanctions, North Korea would be poised to take advantage of greater economic links with the outside world, according to multiple analysts and people familiar with the situation in the country.
"We have created a mighty sword for defending peace, as desired by all our people who had to tighten their belts for long years," he said, promising the military achievements would open up "bright prospects for the building of a prosperous country."
While Kim has not pursued the Chinese-style economic reforms some predicted he would, experts said there has been a quiet revolution inside North Korea, with a liberalizing of traditional controls over state businesses and a flourishing of private enterprises and markets, even as these have remained technically illegal.
Choson has run startup bootcamps within North Korea for more than six years, training thousands of budding entrepreneurs in how to take an idea from concept stage to market, financial planning, consumer research, and other key skills.
"The people we train, the Koreans we have in our workshops are from really diverse backgrounds," Weisensee said. "Choson Exchange has quite a brand in (North Korea) now, there are many companies who are eager to send their staff so people learn how to be better managers, learn how to innovate more."
Joo Yang was born in 1991. Her early years coincided with the "Arduous March Famine," which lasted from 1994 to 1998 and took the lives of hundreds of thousands of people.
"We realized if we didn't do anything we would starve to death, so we started trading. If you had some rice you'd make and sell rice cakes, if you had corn you'd make and sell corn noodles."
For her first business, Joo gathered leftover soybeans from factory waste, cleaned and sold them. Other young North Koreans featured in the documentary, all of whom have since left the country, had similarly rough starts to their entrepreneurial careers.
As a young teenager, Min Kang stole "a few thousand won" with which he bought bags of apples to sell individually on trains which ran past his home.
"Little by little I made more money, I went to the border region to buy goods from China, things like batteries, flour and socks, and sold them to wholesalers in the interior," he said.
As more space opened up for people to launch businesses in North Korea, those who honed their skills during the rough years are well poised to take advantage, said Weisensee.
"The frontier entrepreneurs of North Korea are in some ways the ultimate entrepreneurs and start-up founders because they had to learn to operate under incredible uncertainty and lack of resources," he said.
"Economic cooperation where the South and the North prosper together is an important foundation of establishing peace on the Korean Peninsula," Moon said.
"We will freshly connect the South and the North, where it has been disconnected by the military demarcation line, with an economic belt and establish an economic community where the two Koreas proper together."
Key to this will be restoring transport links between the Koreas, and opening a pathway from manufacturers in the South through the North into China and the rest of the Eurasian continent.
"The severed inter-Korean railway will be connected again. A train departing from Busan and Mokpo will run through Pyongyang and Beijing, and head towards Russia and Europe. Cooperation projects in northeast Asia, such as the gas pipeline project connecting the two Koreas and Russia, may also be implemented," Moon said.
That plan has been communicated to North Korea: during their meeting at the DMZ, the demilitarized zone that divides the two Koreas, Moon gave Kim a USB stick containing details of three proposed "development belts" covering energy and natural resources; transportation, logistics and industry; and environment and tourism.
That cross-border trade has been hurt by sanctions, but recently developments on the Korean Peninsula have seen a spike in housing prices in Dandong, a city on the Chinese side of the North Korean border, as speculators hope for a new economic boom following Kim's multiple visits to China and the upcoming Trump summit.
As well as its mineral resources, North Korea would also present a boom to manufacturers, especially those south of the DMZ, who would be able to take advantage of a Korean speaking workforce at far lower costs.
Wol-san Liem, director of Korean Peninsula affairs at the Korean Public Service and Transport Workers' Union (KPTU), said there has not been enough discussion about what exactly economic cooperation would look like from the ground level, and how its benefits could be equally shared without leading to the exploitation and abuse of North Korean workers.
"There are huge risks," she said. "It's hard to think about it not happening. Kaesong was essentially South Korean capital exploiting cheap labor from North Korea, and North Koreans who come to South Korea now are working in the worst jobs for the lowest wages."
Initial opening up of North Korea will likely focus on special economic zones like Kaesong, similar to the model of reform followed by China in the 1990s.
"Inter-Korean economic cooperation will open up slowly," said Anwita Basu, an analyst at the Economist Intelligence Unit (EIU). "The groundwork was laid by the Kaesong industrial complex and the ski resort in Mount Kumgang. These projects cannot be re-opened unless UN sanctions are eased off and the US changes its maximum pressure strategy."
How willing foreign companies will be to engage in these zones is unclear, she added.
"The key among this is extreme uncertainty around contracts, regulations and high levels of corruption. Investors also find it difficult to transact money in and out of North Korea, because of sanctions. At the end of the day, the North Korean economy is far from opening up to the extent that foreign investors will be interested."
Moving beyond individual projects or applying their lessons to the rest of the economy presents a host of other problems.
China's reforms also saw mass unemployment and related problems, as people raised to rely on "iron rice bowl" jobs in state-run industries were cut loose to fend for themselves, even as the country as a whole enjoyed booming economic growth as it transitioned to state capitalism.
Basu, the EIU analyst, said economic liberalization in the North could also negatively affect the South.
"North Koreans will not be welcomed with open arms in South Korea," she said. "People there are already struggling with a lack of a social safety net and job security. An inflow of cheap labor would create more trouble in the job market."
Any immediate economic growth within North Korea will likely depend on the country's domestic entrepreneurs.
"(The) biggest target for Kim has been repairing the relationship with China, where sanctions have really strained the North's export earnings," said Stephan Haggard, an expert on the Koreas at the University of California San Diego. "He will be pushing for bilateral sanctions relief quietly and other forms of support there first."
Basu said Kim will also be reluctant to open up too quickly, even if the international community is willing to ease up on sanctions given the great uncertainty over denuclearization.
"The regime's security will be at risk if the opening up takes place too quickly and North Koreans flood out of the country for jobs," she said. "Worse still, if they get influenced by democratic cultures, they may demand such a system at home. The regime will have to adapt to the change in people's mindsets and somehow maintain its ethos and the system whilst also letting people leave."
Ken Eom, who defected to South Korea in 2010, said it may prove impossible for Pyongyang to control the pace of reform once it begins to lessen its grip on the populace and economy.
"The North Korean government does not have any experience in how to handle a capitalist economic system," he said.
North Korea, Eom told CNN in Seoul, where he works with other North Korean refugees, struggles to even control the "pre-market system" which has emerged in the country since the 1990s, let alone full capitalism. He added while Kim may hope to use reforms to strengthen government-run industries, bringing the tens of thousands of people who are operating outside the state system back into it may be impossible.
"People have already learned how to make money, how to deal with this new economic system by themselves," Eom said.
Or as another defector told the LiNK filmmakers: "Our parents generation was given everything by the government, but not our generation, we had to find our own food, and make our own money."
Read more: https://www.cnn.com/2018/06/08/asia/north-korea-economy-kim-jong-un-intl/index.html
Related