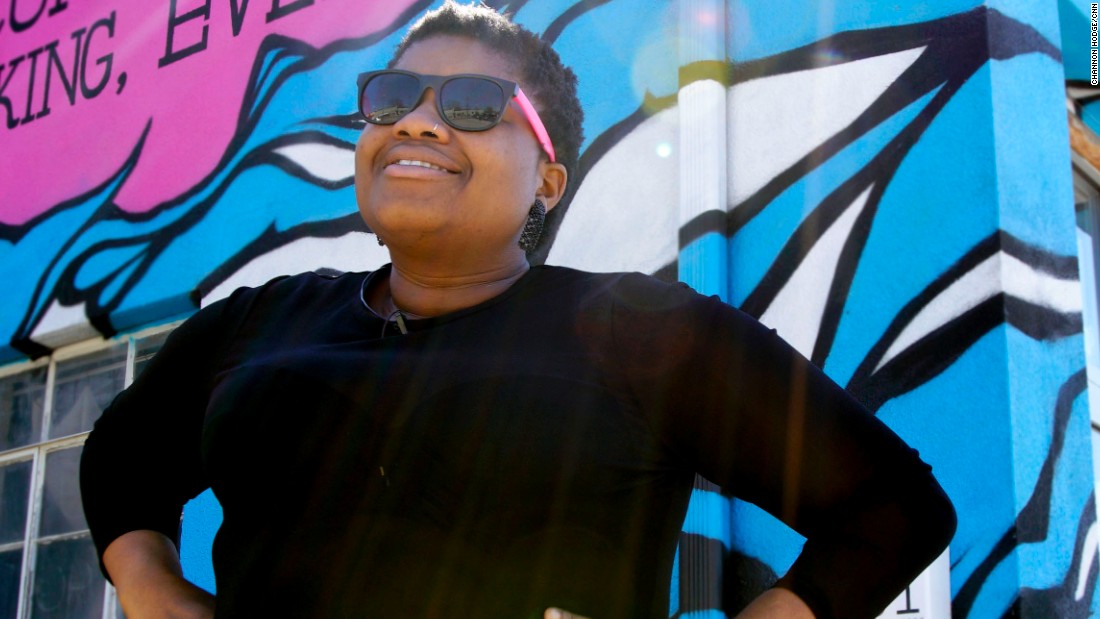 Durham, NC (CNN)Yoga teacher Jessamyn Stanley hasn't been seated more than a couple minutes at her favorite new restaurant, Palace International, when two women eating lunch nearby recognize her.
"Oh, are you the one that does yoga?" asks the first woman, smiling nervously. "I follow you!"
"Yes, hi," replies Stanley, squirming a little at the attention.
The woman continues to praise Stanley, telling her that Stanley's Instagram posts have helped give larger women a positive body image.
People recognize Stanley whenever she's home in Durham, North Carolina -- not just for her hardcore yoga classes, but because of her social media presence.
A post shared by Jessamyn (@mynameisjessamyn) on
Yoga gave her the courage to leave her program and move to Durham five years ago, with no job or friends to speak of. After she moved, she was reeling from the loss of a seven-year relationship and the death of her aunt, and yoga became her saving grace.
Once home to a bustling tobacco industry and a four-block "Black Wall Street" area of African-American-owned financial enterprises, Durham had become a place in the late 1980s where the mostly white, middle classes from nearby Raleigh and Chapel Hill would not go after dark.
Now the city is bustling with new hotels, farm-to-table restaurants, a busy and engaged farmers' market (even in winter), a food truck scene, ethically sourced coffee shops and storefronts selling locally made foods and home goods.
Some of that is thanks to the health care and life sciences industries, Duke University and Counter Culture Coffee, which is headquartered in Durham and has a roasting facility, training center and Friday open tastings here.
But much credit also goes to the hustle of independent artists and entrepreneurs, including Stanley and her friends, who moved into the city and made it their home.
Getting priced out of the city Stanley loves is a possibility she and her friends debate endlessly, fighting for a city living wage and gender identity/LGBTQ protections, even as they recommend their favorite places for visitors to check out.
Stanley does occasionally eat at the Pit and do yoga at Duke Gardens, but some of her favorite spots are mostly known by the locals who live and breathe Durham.
After waking up and doing some morning yoga, Stanley first heads to Cocoa Cinnamon, which is owned by husband-and-wife team Areli and Leon Barrera de Grodski.
Cocoa Cinnamon's first location sits on a corner in Durham's Central Park neighborhood, filled with regulars drinking Counter Culture coffee and specialty drinks as they work at the collection of tables.
The most popular is the Dr. Durham, says the barista, which consists of a latte with slightly frothier microfoam with homemade vanilla topped with maca root powder, ginger root powder and black lava salt.
"Did you enjoy your trip?" Stanley asks Areli Barrera de Grodski, who's behind the counter today, as she orders her favorite Moctezuma, a latte with dulce de leche and cayenne pepper.
"Yeah, I got to visit the southern part of Peru, went to Machu Picchu and realized that it's like all about astrology," Areli replies.
The coffee shop, which started as a mobile bike (not a truck) and opened this storefront in 2013, now has two locations and is building a third. The couple have built their business on sourcing many of its ingredients locally and its coffee sustainably, and paying workers a living wage.
Located around the corner from Cocoa Cinnamon, the newly named Mothership houses Stanley's work space -- along with lots of other solo entrepreneurs spread out among the various desks and sofas collected over the years.
The Mothership also has a store/art space, which is Stanley's favorite spot for finding art and other goods by North Carolina-based makers, some of whom are her friends and yoga students.
"It's an awesome place to get local Durham stuff," she says. "Not only does it support different artists and makers who are in this area, but (the shop was) also created by people who are themselves makers and creators."
Among her favorites are Evan McIntyre's art, RIVTAK clothing and accessories, Big Spoon Roasters and The Zen Succulent, which also has a shop downtown.
And when she hits a wall creatively, wandering through the Mothership store can inspire her creativity.
"If I looked at only yoga things all the time, I would never come up with any new ideas," she says. "It's really important to be looking at and appreciating every kind of expression."
Just a five-minute drive from downtown, Palace International, which specializes in Kenyan and East African cuisine, is Stanley's latest favorite go-to spot.
It's where she can easily bump into friends and fans who also love the chicken karanga, curry goat, lentils, samosas (which came to Kenya via Indian immigrants) and other African food served by Caren and Maurice Ochola and their grown children, Moses Ochola and Suzanna Ochola-Love.
"How has there been this amazing African food right under my nose and I didn't even know?" she says. "These oxtails are insane. The chicken is insane."
"As a person who did not really grow up eating traditional African cuisine, even being African-American, it is awesome to have it within arm's reach and that it's so good," she says.
Asked by Stanley if any of the food is Americanized, Suzanna Ochola-Love laughs and says no.
"I promise you, you can fly to Kenya right now, take a bus into Kisumu and you will get food just like this."
Located under the Pavilion at Central Park, the Durham Farmers' Market is open year-round -- although there's more variety and longer hours when it's not winter. Stanley recommends the flowers at Bluebird Meadows and whatever's for sale at Tiny Farm and Funny Girl Farm.
There are often food trucks right across the street, along with art for sale -- all organized by the Art Market at Vega Metals, a cooperative artist collaboration featuring metal artwork. A recent Saturday had abortion rights activists selling baked goods.
"I love the farmers' market because it's a perfect representation of the entrepreneurial spirit that truly unites Durham. I always leave feeling a stronger connection to my city," Stanley says.
Aren't visiting during its operating hours? Head to Bulldega, the downtown market that features many locally grown and produced products, including Funny Girl Farm, Big Spoon Roasters and a living herb wall.
A local favorite for fabulous ice cream, The Parlour was launched as a food truck in May of 2011. Using crowdfunding to pay for some of their kitchen equipment, owners Yoni and Vanessa Mazuz opened a brick and mortar store in April 2013 focusing on interesting and local ingredients.
Coconut curry with candied cashews, orange blossom with candied ginger, sweet corn with black raspberry and coriander goat cheese with strawberry swirl are currently on the menu.
"It is a symbol of how entrepreneurship blooms in the city and the product is amazing," says Stanley, who often stops by to see her friend Bahar Karkuki, the shop's general manger. "Any time that they can, they source local ingredients. "
Need a slice of pie to go with that scoop? Scratch, operated by James Beard semi-finalist Phoebe Lawless, is just a couple blocks away (and a second location is in the works).
Dinnertime in Durham creates some hard decisions.
Downtown, chef Michael Lee operates M Sushi (focused on seafood) and M Kokko (focused on chicken) from the same kitchen. Look for the unmarked separate entrance to write your name on the M Kokko waiting list. He plans to open M Kogi to serve Korean barbeque and M Taco in the same neighborhood in early 2018.
Then there's Dashi, which is owned by husband-and-wife teams Nick Hawthorne-Johnson and Rochelle Johnson and Billy and Kelly Cotter. The Johnsons also own the Ponysaurus Brewing Company and the Cookery, a commercial space that has launched many a food truck. The Cotters' other venture is Toast, an Italian sandwich spot.
On a late weekend night, however, Stanley returns to her Durham roots with restauranteur Matt Kelly's refined but warm Italian venture, Mothers and Sons, to celebrate the birthday of her partner Kori Higgs.
"Mothers and Sons is a collaboration between Matt and his former chef de cuisine at Mateo Tapas, Josh DeCarolis, and Josh is like behind the helm at Mothers & Sons making the most amazing Italian food," says Stanley.
"You cannot understand this pasta that Josh literally makes every day, rolls it out on the big table in there. He does it the way that he learned it in Italy from his people, and he really shares that with the people who come into the restaurant, and it's amazing."
After finishing up at Mothers and Sons, Stanley and her posse head to the Atomic Fern social club to keep the celebration going.
Durham is a small town, so the non-university nightlife isn't as extensive as in larger cities, but Stanley tends to find the fun spots and know the people who run them.
"Cosmic Cantina is one of the only restaurants in Durham that's open really late," she says. "You always ran into the most random people there at 3 o'clock in the morning. It's like the line will be out the door and you'll run into literally everybody at Cosmic."
Durham has a hopping hotel scene that's worth exploring.
The Durham, a one-time bank transformed into a boutique downtown 53-room hotel, hosts an all-day coffee bar in its lobby, and best of all, has beans ground fresh for every guest to make coffee in their own room every morning -- included in the room price.
James Beard Award-winning Andrea Reusing runs the kitchen -- including room service and the rooftop bar, where locals head to watch the sunset. There is also a house-made coffee soda at the lobby coffee bar worth a visit, even for people not staying at the hotel.
The city is also home to an outpost of the hip 21c chain, where the Art Deco Hill Building has been transformed into a 125-room hotel with an art exhibition space. Chef Thomas Cardruns the kitchen at Counting House, the hotel's seafood-focused restaurant and bar.
The art space is open to the public and guided tours are available Wednesday and Friday at 5 p.m. Even the original bank vault has been transformed into an art space.
A mid-century motor lodge currently under renovation, the Unscripted Hotel Durham is scheduled to open in April across the street from the Durham. It will feature a diner, a pool deck and a pay-by-the-ounce taproom.
Read more: http://www.cnn.com/2017/04/04/travel/jessamyn-stanley-durham-nc-one-perfect-day/index.html
Related